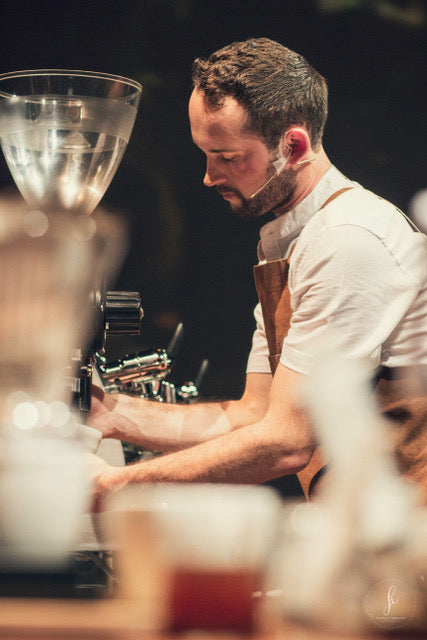 In March, Logan from our Wellington Beanery store will be representing Mojo in the Meadowfresh New Zealand Barista Championship (NZBC). The competition sees baristas from around New Zealand compete for a chance to take out the title, going on to represent New Zealand at the World Barista Championships (Yes, there is such a thing!)
Performance time is 15 minutes and competitors have to serve their chosen coffee across 3 courses to 4 judges; an espresso, a milk beverage and a uniquely created 'signature beverage'. This is delivered in a presentation-style performance which includes making 12 coffees in a tidy and accurate way, speaking with the judges, showcasing the coffee, explaining why it they chose it, all whilst they try to push the boundaries of specialty coffee! Phew! Sounds simple enough, right?!
We chatted with Logan to get a sense of what kind of work he has been doing to get ready for this exciting competition…
What made you start competing in these competitions?
I started competing back in 2016 when I found myself wanting to learn more about coffee but not sure how to go about it. An opportunity to compete came up and I decided to throw myself in the deep end in an attempt to learn more. The first year was a steep learning curve but each subsequent year has been me trying to improve on the previous year and digging deeper into the coffee industry.
What does the build-up to the competition look like?
 I usually start preparing 6-8 months before the competition, which is probably a bit excessive, but I'm a serial procrastinator!
I'll start by selecting a coffee. It doesn't have to be the best coffee out there but rather a coffee with a story or philosophy I can get behind. This year, I'm working with a coffee that I became familiar with while I was in Colombia in 2019. The producers and exporters for this farm are working together to have a greater focus on sustainability around coffee production. This was really inspiring for me and one of the main reasons I selected this coffee.
From there, I begin dialing in (perfecting) recipes for each course. This generally means lots of taste testing and drinking 10 or so espressos after work, so it can take a toll!  During this time, I'll be putting together my speech and picking up all the little bits and bobs I'll need for the competition.
Usually, 2 months before the competition I start going through the entire performance by myself and then practicing in front of people. This'll be the third time that I've gone through the build-up, so fingers crossed that'll do it.
What are you excited about this year?
A couple things actually. As always, I'm looking forward to serving up the coffee I've chosen. I've been working with this coffee for the last year and a half now, so it'll be good to finally serve it for the judges. I'm also excited to catch up with everyone at the event. It feels like the coffee community has become bigger and tighter knit in the last year so that'll be fun.
NZBC is being held Saturday 20th and Sunday 21st at Expressions Arts & Entertainment Centre, Upper Hutt.
Logan is the first competitor up at 10:30am on Saturday and entry is free for spectators so come along and support!
You can also vote for your favourite barista (Logan!) in the People's Choice Award which could win you and them some sweet treats! Vote now